Choosing a budget airline can be daunting, especially if you're worried about compromising your travel experience. With so many airlines to choose from, how can you be sure you're picking the right one? In this article, we'll give you an in-depth review of Vueling Airlines, Spain's largest budget airline, to help you decide if they're the right choice for your next trip.
What is Vueling Airlines?
Vueling Airlines was founded in 2004 and has since become Spain's largest airline in terms of fleet size and destinations. In 2019, the airline set a record for carrying 34 million passengers in a single year. Vueling Airlines is also highly regarded in the low-budget airlines category.
Which bundles does Vueling Airlines provide?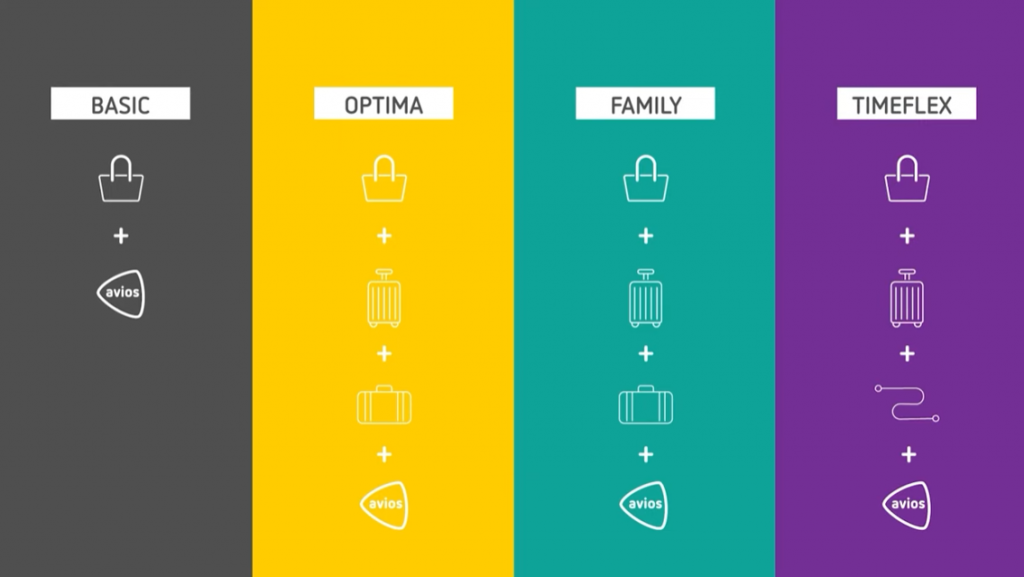 Four packages are available from Vueling Airlines to accommodate different passenger needs:
Basic Fare: The least expensive prices for travelers who only have one handbag.
Economical rates for two handbags, 25 kg of checked luggage, and free seat selection are offered by the Optima Fare.
Family Fare: Decent alternative for families with two 25 kg checked bags, two hand luggage allowances, free seat selection, and priority boarding.
TimeFlex Fare: Perfect for frequent travelers who frequently modify their plans. Included benefits include priority boarding, two handbags, unlimited free ticket changes, and flight credit as a refund choice.
Is Vueling Airlines Reliable and Legit?

Vueling Airlines
Visit site
Yes, Vueling Airlines is part of the International Airlines Group (IAG), which also owns British Airways and Iberia Airlines. Vueling Airlines also meets the high safety standards set for European airlines and has consistently been ranked as one of the safest low-budget airlines in the world.
Who is the owner of Vueling Air?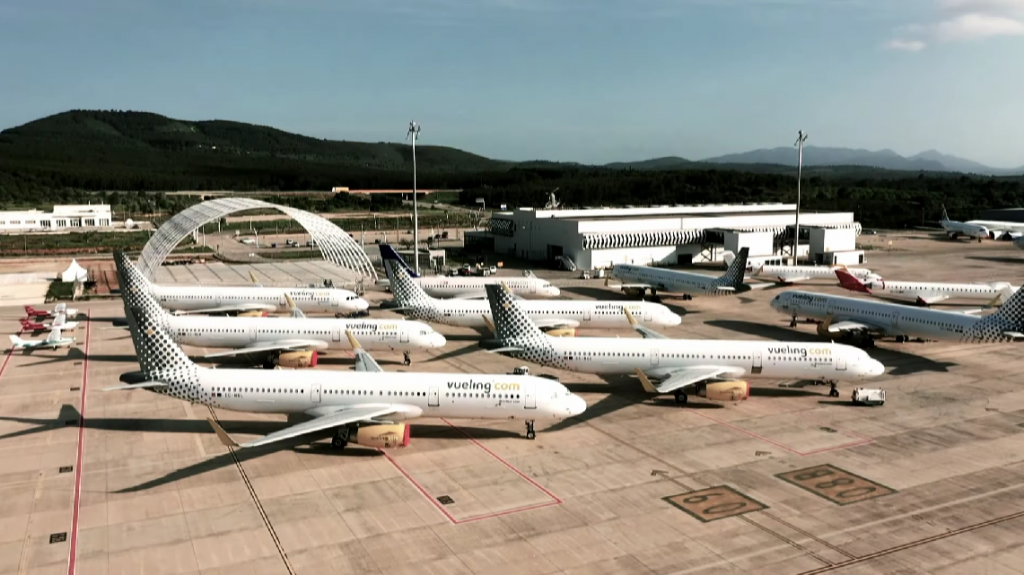 Operating as part of the International Airlines Group is Vueling Airlines (IAG). In 2012, the international airline holding company formally acquired Vueling. Although many people believe it to be so, Vueling Airlines is not a subsidiary of British Airways. Nevertheless, like other airlines operated by IAG, British Airways and Vueling Airlines are partners.
Vueling Airlines Destinations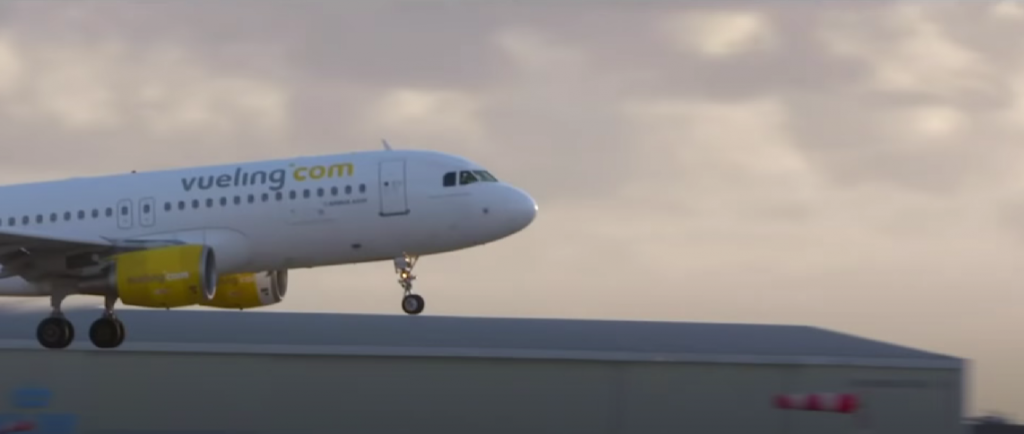 From its initial years of operating only two Airbus320 aircraft to three selective destinations in Europe and a single airport in France, Vueling Airlines now flies to 140 destinations around the world on multiple continents. Check out their web map to see a list of all the present places the airline flies to and from.
How Is Flying with Vueling Airlines?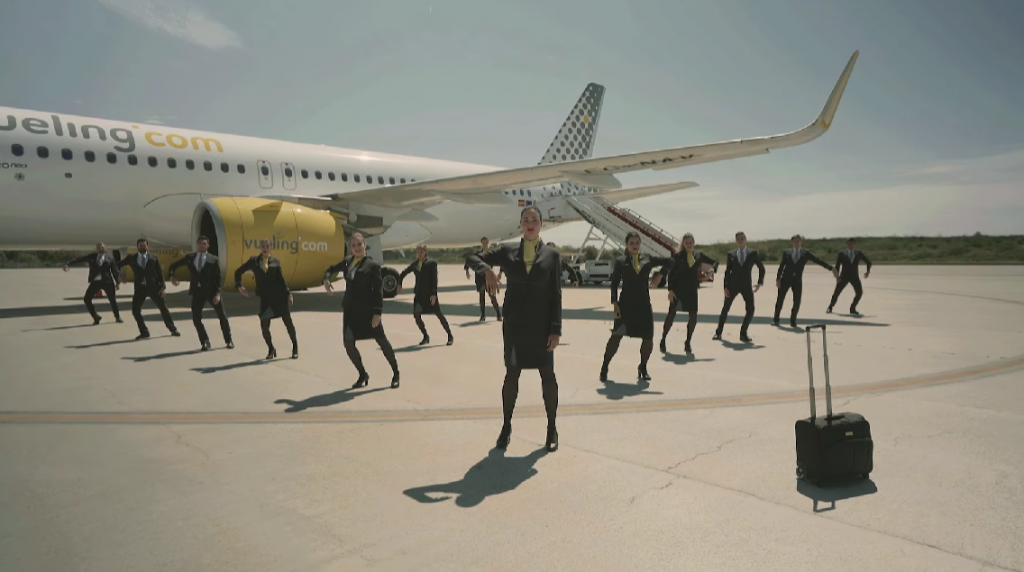 Vueling Airlines provides the basic needs for a budget-friendly airline. The seats offer enough legroom and space at a reasonable price, and you can upgrade to the Excellence Service for more room and a complimentary snack. Almost all Vueling aircraft have Wi-Fi, with packages varying from 3 euros to 5.99 euros depending on the activities you want to indulge in during the flight.
Is Food and Drink Available on Vueling Airlines?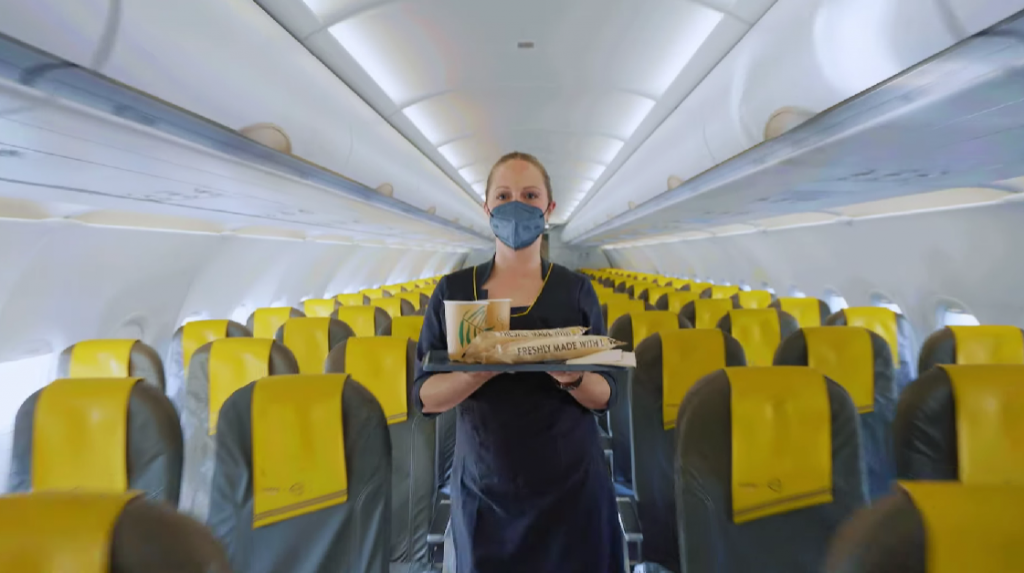 Unfortunately, Vueling Airlines doesn't offer free food or drinks unless you've purchased a business-class ticket. However, you can buy food and drinks from their extensive menu during your flight at reasonable prices.
How is Vueling Airlines Being Reviewed?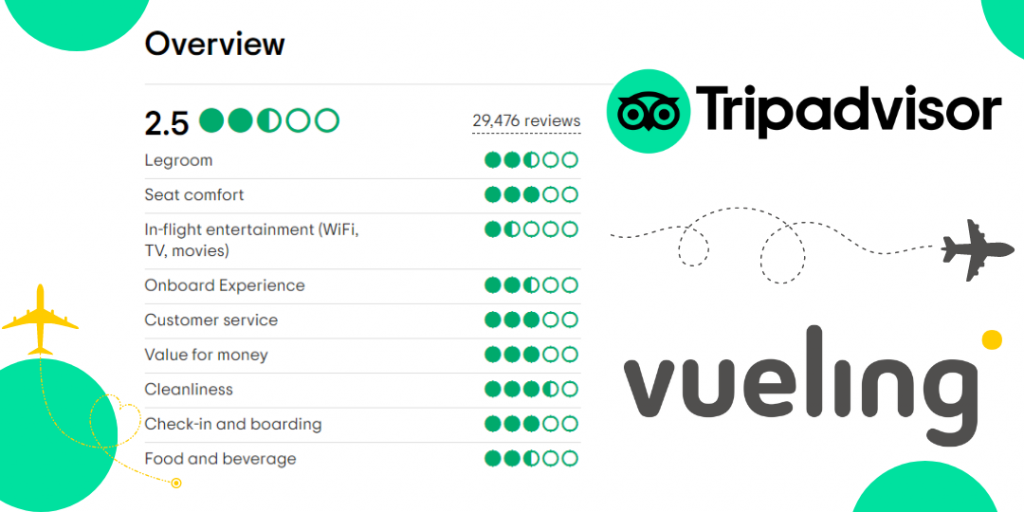 Based on over 27,000 Vueling Airlines reviews, the airline holds 2.5/5 stars on Tripadvisor. Many bad reviews criticize the airline for issues related to on-time departures and arrivals, as well as problems with bookings and the quality and timeliness of their customer service team. However, many people also praise Vueling Airlines for being accommodating and a great value-for-money option.
What is Vueling Airlines' luggage policy?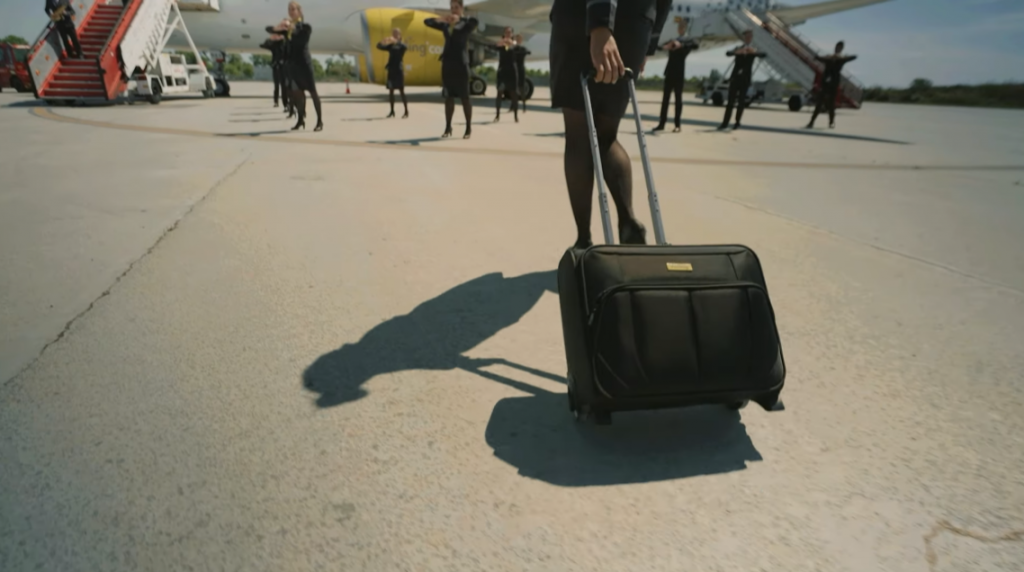 Vueling Airlines has a restricted baggage allowance according to the fare type and destination of the flight. Generally, passengers are allowed to bring one item of hand luggage and one checked bag, but this can vary depending on the ticket type and route.
For hand luggage, the maximum weight allowed is 10kg, with maximum dimensions of 55cm x 40cm x 20cm. This includes items such as handbags, laptops, and backpacks. Passengers can also bring one additional item of hand luggage, such as a small bag or a duty-free shopping bag, which must fit under the seat in front of them.
Checked baggage must not exceed 23kg in weight and 158cm in combined length, width, and height. Passengers can purchase additional baggage allowance during the booking process or by logging into their booking online. The cost of additional baggage depends on the route and the time of purchase.
It's important to note that some items, such as sporting equipment or musical instruments, may require special handling and may be subject to additional fees or restrictions. Passengers should check the Vueling Airlines website for more information about specific baggage restrictions and fees.
What is Vueling Airlines' check-in policy?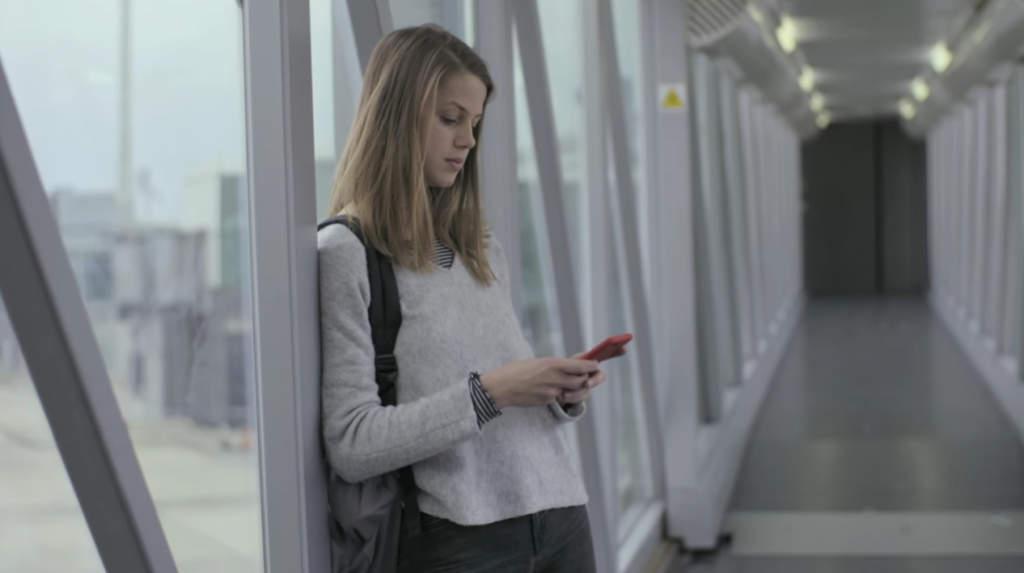 Vueling Airlines offers several check-in options to make the process as convenient as possible for passengers. These include online check-in, mobile check-in, and airport check-in.
Online check-in is available from 24 hours to four hours before the scheduled departure time. Passengers can check in using the Vueling Airlines website or mobile app and choose their preferred seat. After completing online check-in, passengers can print their boarding pass or save it to their mobile device.
Mobile check-in is also available through the Vueling Airlines mobile app. Passengers can check in and download their boarding pass to their mobile device, which can be scanned at security and boarding gates.
For passengers who prefer to check in at the airport, Vueling Airlines offers self-service kiosks at most airports. Passengers can check in, print their boarding pass, and drop off their luggage at the kiosk. Vueling Airlines also has check-in counters staffed by customer service agents for passengers who require assistance or have special requests.
Passengers should arrive at the airport with enough time to complete the check-in process and pass through security. Vueling Airlines recommends that passengers arrive at least two hours before the scheduled departure time for domestic flights and three hours before for international flights.
What is Vueling Airlines' inflight experience like?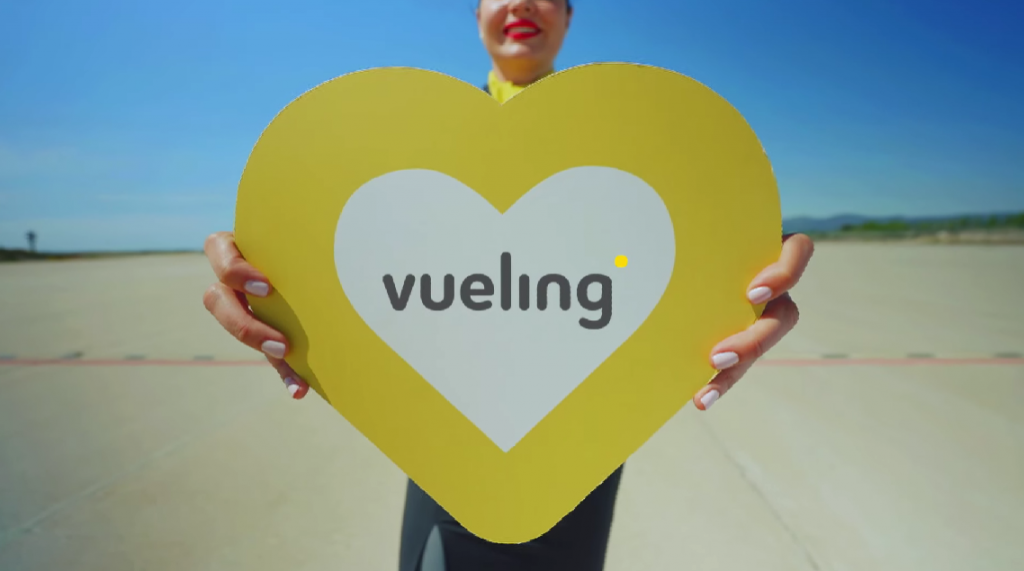 Vueling Airlines offers a range of inflight amenities and services to make the flying experience as comfortable and enjoyable as possible.
Passengers can purchase snacks, meals, and beverages onboard, including hot and cold options. Special meals, such as vegetarian or gluten-free, can be ordered during the booking process or by contacting Vueling Airlines customer service.
Vueling Airlines' aircraft are equipped with comfortable seating, adjustable headrests, and a seat pitch of up to 32 inches. Passengers can also purchase seats with extra legroom for an additional fee during the booking process or by logging into their booking online.
Inflight entertainment is not available on Vueling Airlines flights, but passengers can bring their own devices and access the Vueling Airlines website, which offers a selection of free magazines, newspapers, and other reading materials.
What is Vueling Airlines' frequent flyer program?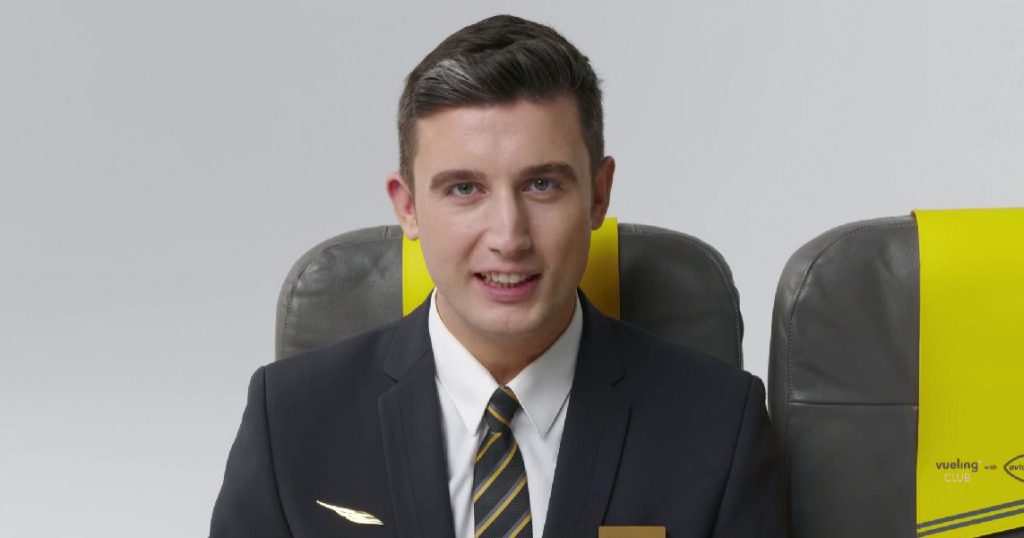 Vueling Airlines operates a frequent flyer program called Vueling Club. Members can earn Avios points, which can be redeemed for flights, hotel stays, car rentals, and other travel-related purchases.
Members can earn Avios points by flying with Vueling Airlines or its partner airlines, as well as by using Vueling Club credit cards or shopping with Vueling Airlines' partner merchants.
Vueling Club has three membership tiers: Basic, Premium, and Elite. Benefits include priority boarding, access to airport lounges, and discounts on flights, among others. Members can earn Avios, Vueling's frequent flyer points, by flying with Vueling or its partner airlines, as well as through other partner programs. Avios can be redeemed for flights, hotel stays, car rentals, and other services.
Vueling Club members can also earn points by using a Vueling credit card, which is available in partnership with Banco Sabadell. The credit card offers additional benefits such as travel insurance, discounts on car rentals, and free seat selection.
Conclusion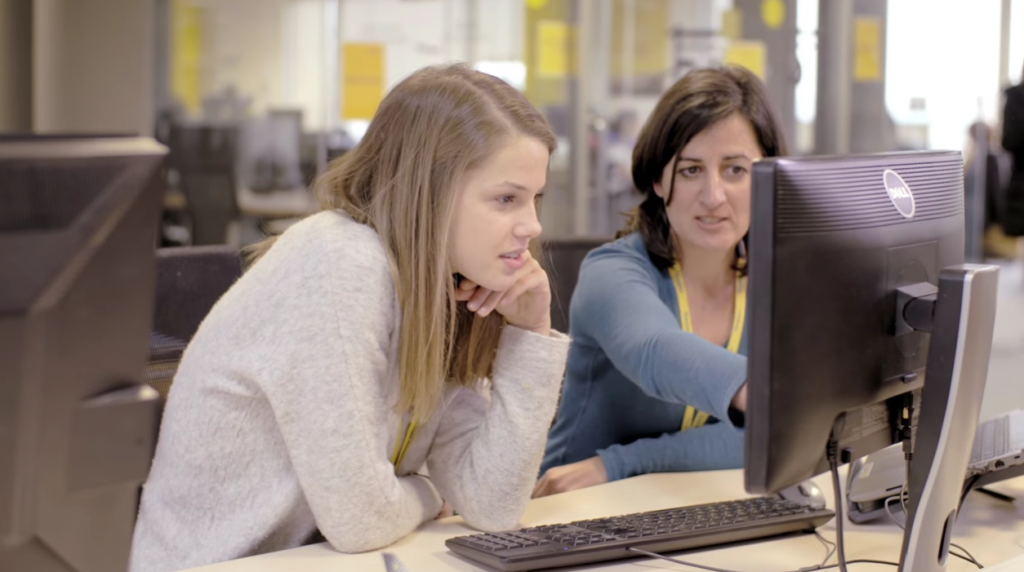 Overall, Vueling Airlines offers a range of options and services for its passengers, including affordable fares, flexible booking options, and a loyalty program for frequent flyers. Its focus on safety, sustainability, and customer satisfaction make it a popular choice for travelers in Europe and beyond.
Post ID: AAGG6v1VD
Category ID: 045Q5E8
The responses below are not provided, commissioned, reviewed, approved, or otherwise endorsed by any financial entity or advertiser. It is not the advertiser's responsibility to ensure all posts and/or questions are answered.