Websites to hire freelancers make it easy to find just-in-time gig workers who can complete important assignments—from small tasks like creating a logo to long-term projects like building a mobile app. The best websites should be affordable for small businesses and offer features like an escrow account, dispute resolution, live support, and a robust mobile app.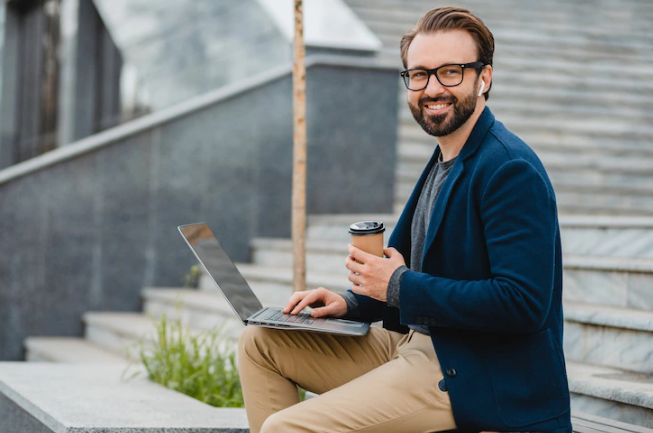 The five best freelance websites have affordable pricing and great features to help you find, hire, and manage freelancers.
Fiverr: Best for companies needing small jobs done for as low as $5 a gig
Upwork: (Best Overall) Best for businesses wanting top-rated freelancers from a top-rated site
Freelancer: Best for businesses preferring to hire freelancers from countries outside of the US
Giggrabbers: Best for employers wanting a free website (the gig worker pays the freelance fee)
Guru: Best for firms wanting to work with an established freelance platform that garners freelancer loyalty
Fiverr: Best for Businesses Looking for Low-cost Freelancers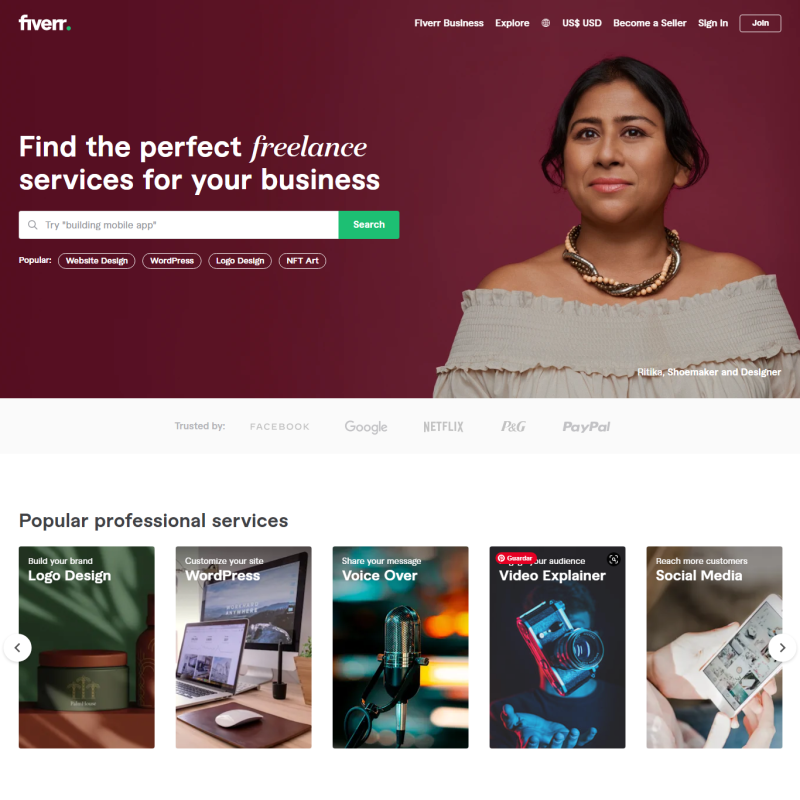 Fiverr
Visit site
Pros
Fees reduced for lower-priced jobs
Can hire for any job type
Lowest starting price range for gigs
Cons
Orders must be paid for in advance
No live phone or chat support
Fiverr is best for businesses that have low-cost work that needs to be done quickly, with projects starting as low as $5 and reduced fees for services under a certain price point. It's a great website to find millennial freelancers and gig workers to do things like proofread your employee handbook, create giveaway packages for a trade show, add music to your company video, run a package across town, build a presentation, or do a little market research.
It scored well in features and functionality (4.5 out of 5 in both) with its easy payment options and dispute resolution capabilities. Low client fees are what's missing from Fiverr. There are much better freelancer sites to use that charge 3% or less as a client fee, such as Upwork and Guru. Additionally, Fiverr is limited to small projects, so if you're looking to get larger projects done, we recommend Upwork and Freelancer.
Fiverr Pricing
With $5 projects, called "gigs," Fiverr has the lowest entry point of all the freelance websites. Similar to Upwork, freelancer hourly rates are posted and often negotiable. In addition, you pay a 5% client fee, which is nearly double that charged by Upwork. However, if you order $20 or less of work, the fee is a flat $1.
Fiverr Features
Almost any kind of service you want can be found on Fiverr, from software programming to pranks. You can even hire a freelancer to give hugs to your customers or order a singing telegram from a gig worker who disguises his voice as Batman. No other site offers that!
Top Services to Buy or Sell on Fiverr 
| | |
| --- | --- |
| Services | Description |
| Graphic Design | If you're a graphic designer, Fiverr is the right place to sell your services. If you design logos, clothes or cards, consider creating a gig on Fiverr. Starting prices for logo designer gigs range from $5 to over $1,400. |
| Website Development | Website development is another lucrative job you can land on Fiverr. One of the highly sought-after web development services on Fiverr is in the e-commerce niche. Top sellers charge from $10 for a simple task to $3,000 for a more comprehensive one. |
| Translation | If you are multilingual, you can use that to your advantage by translating documents and other projects on Fiverr. You can also offer to tutor people in the language and even market their products in that language. Top-selling translators charge up to $370 for a translating job. |
| Copywriting | Wordsmiths are in high demand on Fiverr, which is what makes copywriting a lucrative gig. As a copywriter, you can review products, write blog posts and website landing pages or author books. A top-selling copywriter commands as much as $795 to create a brand story. |
| HR Consulting | Human resources consultants perform a wide range of tasks, such as creating employee policies, hiring and job coaching. A single month-long consulting gig can earn you $1,000. |
| Social Media Marketing | Social media marketing is among the fastest-growing ventures on Fiverr. Some of the tasks you'll perform as a social media marketer include audience research, monitoring social media platforms and posting content to them, and campaign creation. As a social media marketer, you can earn anywhere from $100 to $2,500 per gig, depending on the tasks the buyer wants you to perform. |
| Influencer Marketing | If you have many followers on social media, you can earn a good amount of cash on Fiverr. Several businesses and individuals are willing to pay you to advertise their brand on your social media channels. The price for this service depends on the number of followers you have or the conversions the buyer gets, but an Instagram account with 200,000 followers can make $150 promoting a product, business page, brand or another asset. |
| NFT Artist | You can make great money creating art and then selling the digital rights, in the form of non-fungible tokens, to collectors. Top sellers are getting as much as $1,300 to create NFT art collections. |
Management tools available on Fiverr
Advanced Search Features – Its interface makes it easy to find someone who can do the work you need at your price point. Fiverr uses an eBay-style rating system, which includes a numeric and star rating of each freelancer along with the number of clients they've served. Simply search for the kind of work you want to be done and then view the list of freelancers who claim to have expertise in that area.
Project Tracking – Fiverr offers business tools that let you track your freelancers, manage active orders, view completed projects, and manage your billing preferences. Like Upwork, this makes tracking your projects easy.
Escrow Account – Fiverr has an escrow account option, like the other freelance websites. Once a buyer makes a payment (which can be done using PayPal), the money goes into an escrow account until work is completed. On Fiverr, orders must be paid for in advance.
Mobile App – Like Upwork and Freelancer, you can get the Fiverr mobile app for iOS and Android to help you stay in touch with your freelance worker using messaging tools.
Customer Support and Dispute Resolution – Fiverr offers support through its user forum and via a request from its website. While this service is available 24/7, it is much slower than Upwork and Freelancer, which offer live support. Like the other websites in this guide, you can submit a dispute request directly from the Fiverr website.
What Users Think About Fiverr
Fiverr earns solid reviews on third-party websites such as Capterra—ranking a very high 4.8 out of 5. What users like is how easy it is to use the website and find freelancers. However, some find it frustrating when they contact freelancers who are too booked up to help them or aren't qualified.
Upwork: Best Overall Website to Hire Freelancers for Small Businesses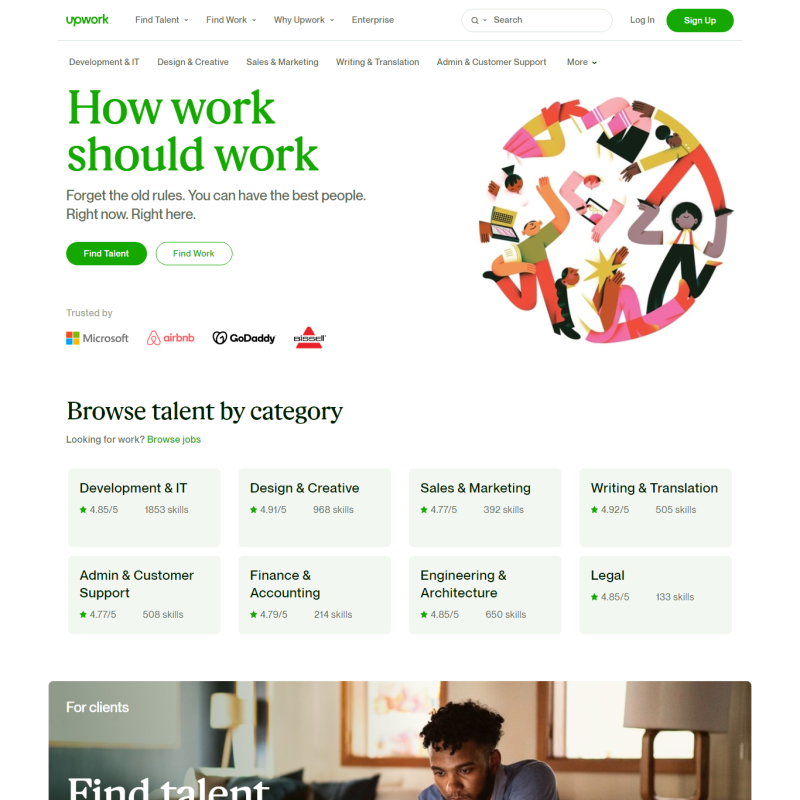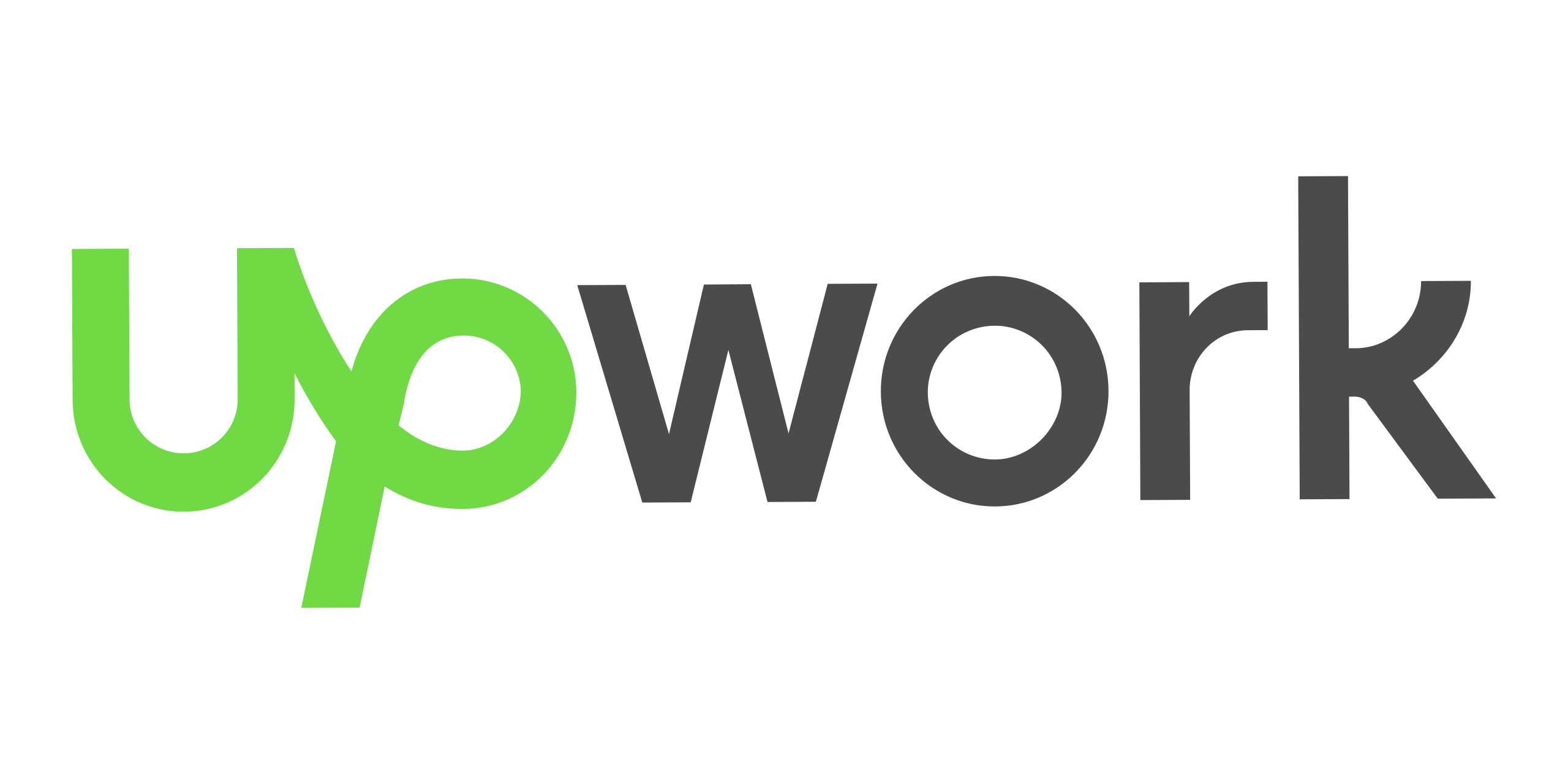 Upwork
Visit site
Pros
Advanced mobile app
Time tracking tools built in
Provides Job Success
Ratings for freelancers
Cons
Limited dispute resolution
Advanced features only available with paid plans
Ranked as our best overall, Upwork is great for any small business. It's an easy-to-use website that provides freelancers of all types. It currently has 10 million registered freelancers and allows employers to rate the quality of each freelancer's work, helping you determine which independent contract worker might be best for your project. In addition, Upwork has more consistently positive online reviews than Freelancer and Guru.
Its features (such as advanced candidate filter algorithms and a mobile app with key job posting and freelance tracking features) and functionality (including easy payment options and its ability to track time and milestones) helped Upwork achieve its top ranking in our review with an overall score of 4.36 out of 5. While it received a lower score than Guru and Giggrabbers in affordability, Upwork does offer transparent pricing and talent sourcing options with its monthly plans.
Like other freelancer websites, scammers sometimes make their way to Upwork. It does a good job of shutting down their accounts; nonetheless, do your due diligence and research freelancer ratings before you commit your money to a project. Once a milestone is approved and paid, you cannot request a refund.
Upwork Pricing
It is free to register on Upwork as an employer, and you pay freelancers based on rates you negotiate when you post a job. Once a job is completed, Upwork charges business clients a 3% transaction fee on each invoice—only Guru comes in lower with 2.9%.
If you need more features, such as assistance sourcing talent, Upwork provides additional pricing tiers ranging from $49.99 to $499 per month that include dedicated account management and reports. It also offers an Enterprise option that gives you contracting and onboarding features, but it requires a custom quote.
Upwork's Enterprise plan statistics
Upwork Features
We especially like Upwork's talent sourcing upgrade options available with the Plus and Business accounts. We recommend these if you hire freelancers frequently because they eliminate the No. 1 problem with other freelance websites—sifting through less qualified freelancers.
Job Postings – With Upwork, you can post jobs with either an hourly or fixed price:

Hourly – You offer to pay a freelancer on an hourly basis. Hourly jobs are billed to you weekly based on the freelancer's time log. For example, you might pay a freelancer for 10 hours of bookkeeping.
Fixed-price Project – A fixed-priced project is more like a contract where you pay your freelancer based on the completion of the project, or project milestones. For example, you might offer a freelancer $500 to add an ecommerce section to your website.

Job Success Ratings – You can browse and find freelancers using basic search functions by choosing the "Find Freelancers" option from the Upwork website. We recommend choosing a freelancer based on their job success rating. The rating is based on feedback scores, with the top freelancers scoring 90% or above—indicating that the freelancer has a history of meeting or exceeding client expectations.
Talent Sourcing – Upwork Plus and Business tiers work like a talent agency. They hand-pick vetted professionals for your job—individuals with 10+ years of work history and great reviews. Upwork interviews them via video to ensure they're a good fit for your project. This saves you time and avoids your having to deal with inexperienced or misleading freelancers who might bid on your project.
Project Tracking – Once you choose to "Post a Job" on Upwork, you will receive a list of freelancers that match your job details. You can select a freelancer and set up a project. If you pay by the hour, Upwork provides a time tracker tool to keep track of your freelancer's work hours. Otherwise, you will set up your project with a deposit placed in an escrow account.
Escrow Account – Your funds are held in an escrow account until each project milestone is complete. Once a milestone is completed and approved, funds are released to the freelancer. For example, if you hire a freelancer to build your website for $2,000, you may pay 25%, or $500, once they set up the server and domain name. Then perhaps you'd release another 25% of the payment after the logo and theme are uploaded and visible on your website.
Mobile App – Upwork provides a free mobile app that lets you stay in touch with your freelancer using text chat or video. In addition, you'll be able to send/receive documents in a secure environment. For convenience, freelance contractors can use the mobile app to track their time with Upwork's "Work Diary." Freelancers can also use the mobile app to document milestone completion for your approval.
Live Customer Support – Upwork has the best customer service out of the top freelance websites we reviewed. Unlike Fiverr and Giggrabbers, which offer only email support, Upwork's support team can be contacted 24/7 by phone, live chat, and email. In fact, it is only one of two of the freelance websites reviewed that publishes its customer service phone number online (Guru is the other, however it does not offer 24/7 availability). In addition, Upwork has a robust online community with advice and tips from other users.
Dispute Resolution – Upwork prefers to be contacted via email "ticket" for dispute resolution. On Upwork, disputes are handled in two ways based on how your work is set up:

For hourly work – You can dispute the hours worked but not the quality of the work; however, you can terminate the freelancer if their work isn't satisfactory.
For fixed-price projects – You can only dispute money in the escrow account for project milestones that have not yet been approved.
What Users Think About Upwork
Upwork earns top marks as a website to hire freelancers. What users like is how easy it is to connect and communicate with freelancers. They also like the built-in tools that help them track time worked and project milestones. As a bonus, Upwork manages gig workers' 1099 tax forms, so you don't have to.
One of the site's biggest complaints is the number of unvetted freelancers, making it difficult to ensure candidates are qualified to perform the job. Additionally, although Upwork is the only site on our list that offers 24/7 live phone support, users have encountered poor customer service and an inability to handle and slow response in dealing with complex issues.
Freelancer: Best Website to Hire International Freelancers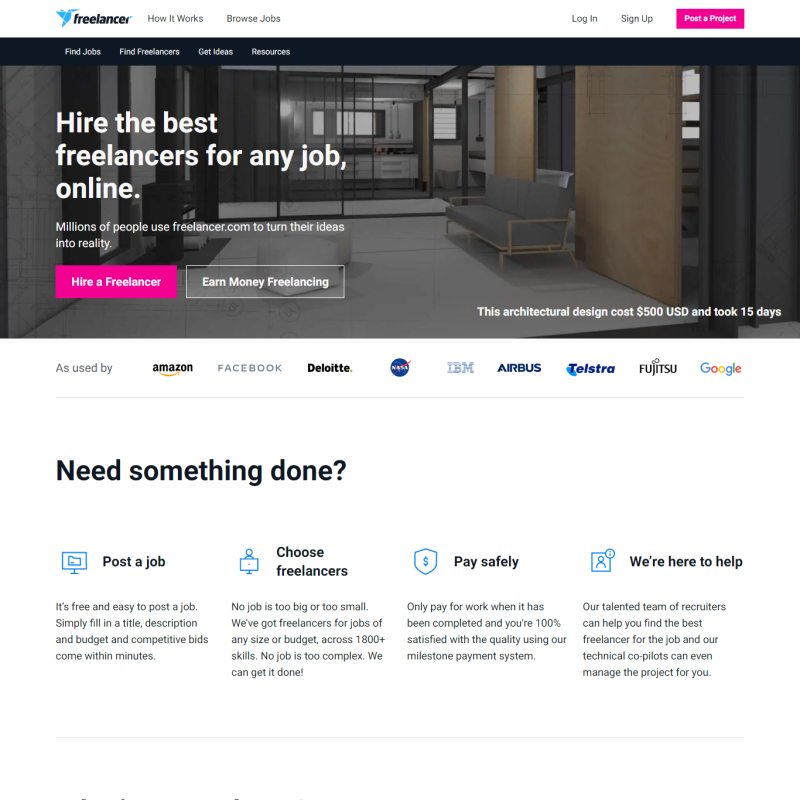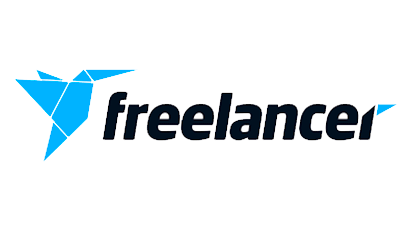 Freelancer
Visit site
Pros
Talent available around the world
Premium job ad placement
Can post 'contests'
Cons
No phone support
Limited dispute resolution
Freelancer is best for businesses wanting access to the broadest number of global freelancers. It attracts gig workers from all over the world—representing over 245 countries—so you may find one outside the US who can do the work you need—the only other provider coming close is Upwork which represents 180 countries. You may also be able to negotiate lower hourly rates with workers in less robust economic environments where your dollar goes farther.
The platform ranked above our top website, Upwork, in functionality (4.75 out of 5) with its time and project tracking features available without upgrade. While it ranked better in functionality, it came in second to Upwork due to its lower user reviews. Freelancer and Upwork were match for match in job posting features, with their advanced candidate filters and mobile apps.
Freelancer fell behind in its lack of live phone support, although it does offer live chat; and like Guru, you can only dispute a project if you've set up an escrow account. This is different from Upwork, which offers live phone support and will help you with any dispute whether you use its escrow service or not. In addition, you can't dispute a contest payment after selecting a winner.
Freelancer Pricing
It's free to post a job on Freelancer. In addition to paying the worker your negotiated rate, Freelancer charges a flat fee of 3% per project, like Upwork. If you want help selecting a freelancer, you can pay an extra $19 per job posting for a service that saves you time and helps match the best candidates to your job. This is similar to Upwork's Plus plan, which provides a freelancer matching service.
Advanced options on Freelancer let you advertise the job for $9 or keep your project confidential for $19 (meaning it won't be visible to website search engines). Additional features are available on the Freelancer site for nominal fees.
Upgrade options available on Freelancer.com
Freelancer Features
With over 21 million gig workers on the website, Freelancer is the largest of the freelance job websites we reviewed. You can use it to post a job in one of three formats, including a contest format, which is unique to Freelancer. With a contest, like "best website logo," you provide details on what you want and multiple freelancers submit their entry. Only the winner gets paid.
"Local jobs" on Freelancer are the same as what Upwork calls an "offer" and Guru refers to as "hourly"—they're hourly jobs.
Hiring Options – Freelancer features three kinds of gig-worker hiring options: 1) Projects such as building a website or translating a document; 2) Contests, like creating a logo or designing graphics for a package label, which allow you to see how a freelancer completes a small assignment before you commit to hiring them for a larger assignment; and 3) Local Jobs, such as answering phones, entering data, or running errands for your office.
Freelancer Reviews – When a freelancer finishes a project, the client has the opportunity to leave a public review on their profile. This is an awesome feature because if a freelancer has gotten lots of good reviews from other people who have worked with them, it is likely that they will do good work for you as well.
Milestone Payments – Freelancer offers an escrow service called Milestone Payments. Similar to Upwork and Fiverr, Freelancer holds client funds until either a service/project is done or a dispute resolution has been decided.
Mobile App – Like Upwork, Freelancer has mobile apps for iOS and Android that can be used to organize projects and communicate with your contract worker via text chat.
Live Customer Support – Freelancer offers 24/7 live chat and email support and provides online support with step-by-step guides, which are categorized into easy-to-find topics like "payments" or "contests." However, it has no phone support, whereas with Upwork, you can contact support live via phone, chat, and email.
Dispute Resolution – Disputes are handled similarly on all of the websites we reviewed, but Freelancer, like Guru, makes you set up your payments using an escrow service before they'll help with payment disputes.
What Users Think About Freelancer
Freelancer has mixed reviews on G2, earning less than the required 4+ to earn top rankings in our overall popularity score. What concerns some is that there's no way to report bad freelancers until after you complete a project with them. What users do like is the responsiveness of the live chat support in resolving technical issues and disputes.
Giggrabbers: Best Free Site for Employers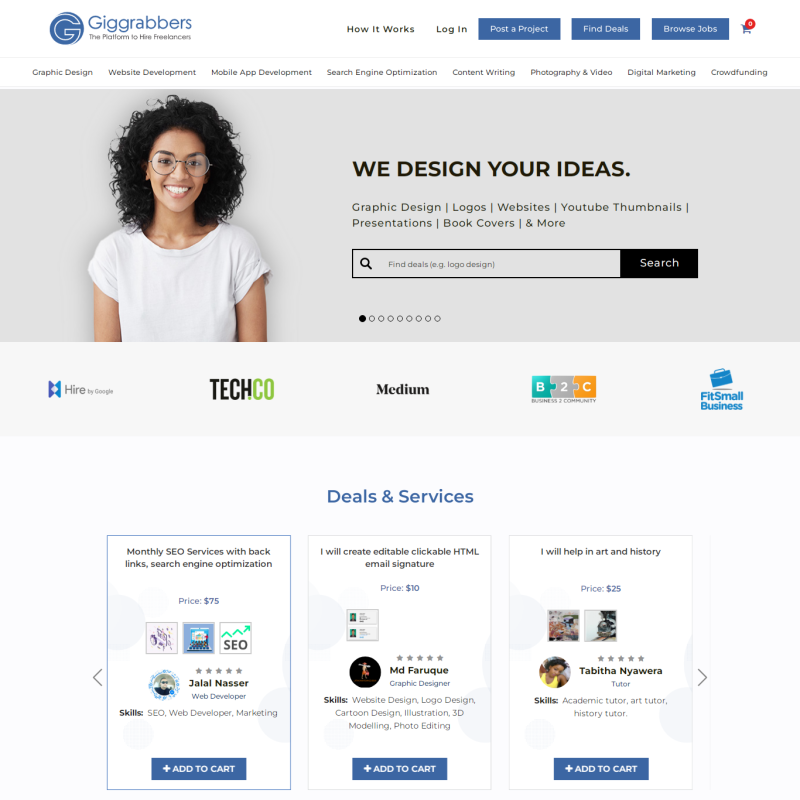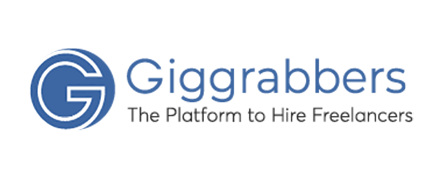 Giggrabbers
Visit site
Pros
Fees paid by the freelancer
Offers crowdsource funding options
Project management tool to view all projects at one time
Cons
Lacks a mobile app
No live phone or chat support
Giggrabbers is best for businesses that need a zero-cost service, and since the freelancer must pay the fees it will ensure they are invested in the work. The freelancers themselves pay fees of up to 10% to be on the site. It's a newer freelance platform and, in addition to not charging any client fees, it has an option that lets business owners use crowdfunding for their projects. That's something none of the other freelance websites offer.
In our evaluation, the platform earned the highest score in pricing (4.38 out of 5) due to the fact that it is free for employers, something none of the other sites offer. It took a hit in popularity since it lacks online reviews. It also only provides support by email; however, it promises that its team will respond within 24 to 48 hours.
Giggrabbers Pricing
Giggrabbers is free to you as the employer since the freelancer is the one who has to pay to use the service (there is a 9.5% service fee for freelancers). If you want help in setting up and managing your project, including finding the right freelancer, you can pay $49.95 per job, which is similar to the monthly rate for Upwork Plus but costs more than similar services on Freelancer.
Giggrabbers Features
Like other freelance websites on this list, Giggrabbers lets you find freelancers either by searching for skilled workers—by keyword, category, job type, or location—or by posting a project so freelancers can find you.
Steps to hiring a freelancer on Giggrabbers
Hiring Options – On Giggrabbers, like most of the other sites, you post a job and then sort through the qualified freelancers. It also offers a contest option, but it's limited only to web design contests, whereas Freelancer's contests can be for any kind of work product or deliverable. However, unique to Giggrabbers is the option to help you fund your project work through crowdsourcing.
Project Management Tools – While most of the websites have a project tracking option to view individual project stages and key dates, Giggrabbers adds a project management tool that gives you a visual look at all your projects at once.
Escrow Account – Giggrabbers, like all the other websites, has an escrow option to ensure payments are secure until work is completed.
Dispute Resolution – It provides a dispute center through which you can submit a dispute with details directly from the website.
What Users Think About Giggrabbers
As a newer website, there aren't many reviews for freelancers on Giggrabbers, so proceed at your own risk. It has not received reviews on many popular sites, like Capterra, but users on G2 said they like the ease of using the website to hire freelancers. The only complaints are the limited number of available freelancers to fill the roles and the lack of a mobile app.
Guru: Most Established Website for Hiring Freelancers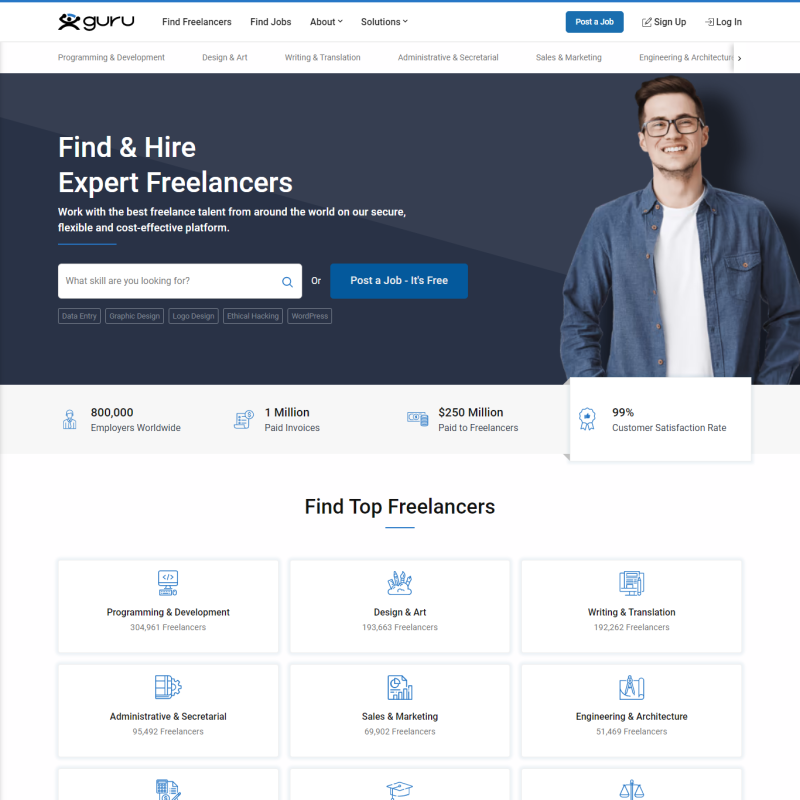 Guru
Visit site
Pros
Offers a lower than average transaction fee; free in some instances
Dedicated WorkRooms for managing freelancers
Website has been active with freelancers for more than 20 years
Cons
Limited hours for phone and email support
Freelancer subscribers can have negative feedback removed from their profile
Guru is best for businesses wanting a proven vendor that's been around a while. Due to it being the first freelancer website, many freelancers and businesses are fiercely loyal to Guru. It has the lowest transaction fees of all the websites we reviewed, except for Giggrabbers, which doesn't have a client fee.
Next to Giggrabbers, Guru earned the second-highest score for its affordability and transparent pricing. However, its interface isn't as updated as some of the newer websites, like Upwork. Additionally, it lacks weekend support and a mobile app. And because some freelancer ratings can be removed at the request of the freelancer (if they're a Guru subscriber), you can't always trust that a top-rated freelancer is really that great.
Also, note that its invoice auto-pay feature pays invoices on a fixed date. You'll need to pay attention to those dates and dispute an invoice before that time if you don't want payment taken out for work not yet completed.
Guru Pricing
It is free to sign up and post a job. Of course, some freelancers will negotiate with you until you both agree on the price. You can advertise your job for as low as $29.95. On top of the rate you negotiate with your freelancer, there's a 2.9% transaction fee added to the invoice. However, Guru offers 100% back to you when paying via e-check or wire transfer—making its services free, like Giggrabbers.
Guru Features
Guru has 2 million users and manages over 1 million projects. Like the other freelance websites in this guide, you can search for independent contractors for any kind of work you need done—hourly or project-based. Once you post a job, Guru will then send you a list of freelancers to choose from.
Easily post your jobs to find freelancers.
Freelancer Ratings – Like Upwork and Fiverr, Guru also provides ratings of its freelancers so you can find the ones with proven track records and great feedback. Once you post a project, you'll be sent quotes from freelancers offering to complete your work. That lets you hire freelancers who are willing and able to get the job done.
Project Tracking – The platform has dedicated WorkRooms for managing your freelancers in one place. You can use status updates to track work progress and time logged by your freelancers.
Escrow Account – Guru offers an escrow account with its SafePay option and encourages you to use and upload a contract clarifying terms in advance.
Customer Support – According to users, Guru provides adequate support, which is provided 9 a.m.–6 p.m. Eastern time via email and phone. However, there is no live chat option.
Dispute Resolution – Guru offers dispute resolution if both parties have agreed in advance to use the SafePay program, which escrows client funds while waiting for the freelancer to complete agreed-upon milestones. In contrast, Upwork has no terms for filing a dispute.
What Users Think About Guru
Some users said that Guru is not very helpful with dispute resolution, even if you opt for its SafePay escrow service. Others complain that scammers game the system by sending invoices, knowing that "auto-payments" are sent from escrow to freelancers after a fixed period (e.g., 7, 14, or 28 days), whether the work was completed to the employer's satisfaction or not.
How We Evaluated the Best Websites to Hire Freelancers
Many freelance websites allow you to post jobs for contract workers to bid on. However, we wanted to present only those that let you find and hire vetted freelancers and provide a means to ensure you're not wasting your money, such as an escrow account and a dispute resolution process. We avoided platforms that tend to attract scammers and focused on those with a strong reputation for solid talent.
Bottom Line
Freelance websites help you find skilled workers who can complete tasks and projects when you don't want to hire a full-time employee. Most charge a transaction fee for their services and provide an escrow process to protect you from scams.
Of all the freelance websites we reviewed, we recommend Upwork as our top pick. It offers the most features at an affordable price for most small businesses, and we love the Upwork Plus plan, which allows employers to only see highly qualified freelancers.
Post ID: Brgg2vywb
Category ID: vZPRP75
The responses below are not provided, commissioned, reviewed, approved, or otherwise endorsed by any financial entity or advertiser. It is not the advertiser's responsibility to ensure all posts and/or questions are answered.